Friends of St Bede's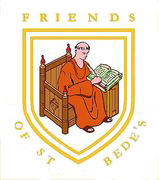 The Friends of St Bede's are a highly committed group of parents/carers and all are welcome to join the team. We realise that support comes in many forms, from attending meetings, providing support at events, offering help in the run up to events and so much more.
Just because you are unable to regularly attend the Friends' meetings, please don't think you can't join in. If you would like to be a part of the team and keep up with the news, please email us via Contact Us > Contact Form and select Friends of St Bede's from the dropdown.
Friends committee officers
The current committee is led by:
Chair - Heather Peters
Secretary - Sika Kouevi
Treasurer - Dafydd Jones
These volunteer parents are more than willing to take on the challenge but they can't do it all without help.
The Friends have previously organised events, such as the Christmas Fairs, annual Quiz Nights and the provision of refreshments at a number of school events throughout the year.
The aim of the Friends is twofold: social inclusion in the school, and raising much-needed funds to support the work of St Bede's and to enhance the lives of the children at the school.
---
Friends events
St Bede's School - Redhill are taking part in the new #easyfundraising Big September Sign-up giveaway, where they have the chance to win a £500 donation prize! Sign up to support them on easyfundraising and not only will you raise FREE donations for them with your everyday shopping, but it will count as an entry into the giveaway. Sign up today:
---
Friends meetings - all parents/carers welcome
A reminder that our AGM will be held on Thursday 16 November in school - we hope you can come along.
Future meeting dates are scheduled as follows and are on the school calendar.
Thursday 11 January 2024 Thursday 14 March
Thursday 9 May Thursday 27 June
All meetings are from 7.00-8.00pm. If you would like to join please wait in reception just before 7.00pm and we will collect you.
The Friends of St Bede's
---
Fundraising - the Easy way!
We are excited to announce our first venture which is the Easyfundraising account which is an app and online site that you can use to make online purchases through and covers hundreds of suppliers.
All you have to do is download the app or go to their website (Easyfundraising online - click here), create a log in and select 'St Bede's School - Redhill' as the cause you support. You can then search for suppliers and any time you buy something by looking for a supplier through their website or app, a donation is made to the Friends at no extra cost to you. Please ask your family and friends to support us too.
It really is that easy to use and can make a real difference.