Friends of St Bede's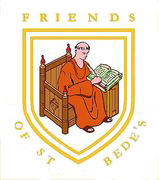 The Friends of St Bede's are a highly committed group of parents/carers and all are welcome to join the team. We realise that support comes in many forms, from attending meetings, providing support at events, offering help in the run up to events and so much more.
Just because you are unable to regularly attend the Friends' meetings, please don't think you can't join in. If you would like to be a part of the team and keep up with the news, please email us via Contact Us > Contact Form and select Friends of St Bede's from the dropdown.
New Friends officers
At the AGM on Thursday 18 November 2021, the new leading officers who were appointed, and are all volunteer parents, consists of:
Chair - Heather Peters
Secretary - Sika Kouevi
Treasurer - Dafydd Jones
These new officers are more than willing to take on the challenge but they can't do it all without help.
The Friends have previously organised events, such as the Christmas Fairs, annual Quiz Nights and the provision of refreshments at a number of school events throughout the year. However, with the pandemic, ways to raise funds has been very limited.
The aim of the Friends is twofold: social inclusion in the school, and raising much-needed funds to support the work of St Bede's and to enhance the lives of the children at the school.
---
Friends meetings - all parents/carers welcome
Since the AGM, we have been finding out more about our roles, getting to know each other and finding out how we can work with the school to bring a benefit for the students. We are now looking forward to meeting other volunteer parents like ourselves.
Meetings have been set up for the remainder of this school year.
The next one is Tuesday 24 May 7.00-8.00pm in room F19.
Please do come along and support the Friends. We will be looking at our accounts, talking to a member of the senior leadership team about what the school needs from us and discussing ideas about how we want to raise funds over the coming months.
We hope to see as many as possible at the meeting.
The Friends of St Bede's
---
Fundraising - the Easy way!
We are excited to announce our first venture which is the Easyfundraising account which is an app and online site that you can use to make online purchases through and covers hundreds of suppliers.
All you have to do is download the app or go to their website (Easyfundraising online - click here), create a log in and select 'St Bede's School - Redhill' as the cause you support. You can then search for suppliers and any time you buy something by looking for a supplier through their website or app, a donation is made to the Friends at no extra cost to you. Please ask your family and friends to support us too.
It really is that easy to use and can make a real difference.
---
To view Friends of St Bede's past events, please click here.