Welcome to St Bede's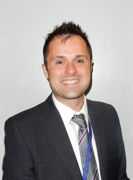 I feel extremely proud and privileged to be Headteacher of St Bede's School and Sixth Form. Having worked at the school since April 2017, which has fantastic students, supportive parents/carers and excellent high quality staff and governors, I am committed to providing our students with the best possible Christian education. The unique ecumenical nature of St Bede's will be at the forefront of everything we do.
St Bede's aims to provide 'Christian education at its best'. When inspected by Ofsted in February 2017, every aspect of its work was judged as 'outstanding' and the Christian character of the school was similarly described as 'outstanding' by diocesan inspectors in December 2017.
St Bede's is unique as the only state-funded school in the UK where Anglicans, Roman Catholics and the Free Churches are bound together in a formal ecumenical partnership.
We are proud to serve roughly 1,800 boys and girls of all abilities, age 11-18, from the Reigate, Redhill, Caterham, Horley and surrounding areas. We want every child to thrive as we seek to promote five key values: Belonging, Education, Determination, Excellence and Service
"a zest for learning (that) permeates the whole school"..."pupils (who) conduct themselves impeccably in lessons and around the school" and "teachers (who) go the extra mile to meet pupils' individual needs."

Ofsted 2017
I hope that this website offers you a flavour of life at St Bede's. Our school prospectus is available to view below and provides an overview of what St Bede's has to offer.

God Bless.
Mr A Powell
Headteacher
---
Our sixth form prospectus (available below) gives you a good insight into sixth form life at St Bede's, including an overview of our aims and ethos, curriculum, pastoral care and enrichment.
Sixth Form ProspectusIf you would like us to send you a printed sixth form prospectus, please use our contact form.
If you would like more information about our Sixth Form, please go to our Sixth Form pages.