Citizenship at St Bede's is used to cover the Citizenship curriculum and much of the new RSE curriculum. These include careers, personal and social education, relationships and sex education (RSE), e-safety, health and personal safety, mental health, British values and the role of the citizen in a modern society. Further details of the taught RSE curriculum is held in our Relationships and Sex Education policy.
All pupils have citizenship lessons throughout Years 7 to 11 and there is a separate programme at sixth form level. Students in Years 7 and 8 have an additional lesson of PSHE once a fortnight.
For more information about each key stage, please click on each of the sections below. You may also like to view our RSE roadmap below which shows where key topics are covered throughout the school. All topics are hyperlinked to sources of support for families.
Click on the image to see the RSE roadmap.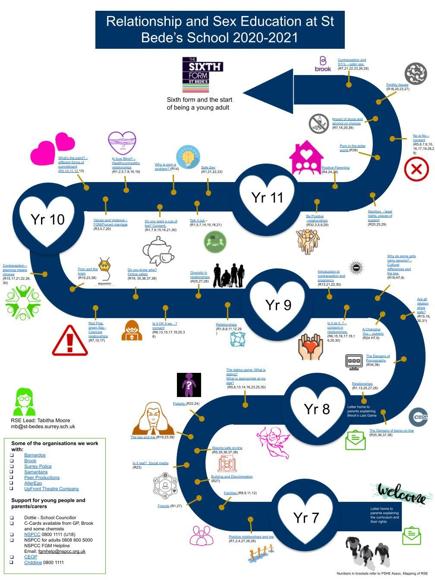 Citizenship-PSHE-September-2021.pdfRSE-Mapping.pdf
Key Stage 3 (Years 7, 8, 9)
Year 7
Students are introduced to Citizenship as a subject. They start with the 'Smart Moves' program which develops resilience and supports the transition to Secondary school. Students then look at British Values, UK politics, Careers and Finance. In PSHE students explore types of relationships, puberty and changing emotions, managing risk and stereotyping.
Throughout all topics students are encouraged to explore their responsibilities as an individual both respecting the differences in others and the environment of which they are a part.
Year 8
Students develop their skills in Citizenship lessons by learning about their extensive role in the community. They are introduced to topics that increase their awareness of the laws related to young people. The topics covered include Human Rights, how to bring about change and the world of work. In PSHE, students study online safety, first aid, body image, how to identify and manage negative relationships and contraception.
Year 9
Students develop their understanding of the rights and responsibilities of citizens and the police. They will use and apply their knowledge and understanding whilst developing skills to research and interrogate evidence, debate and evaluate viewpoints, present reasoned arguments and take informed action. Time will be taken to reflect on their achievements and strengths in all areas of life, to develop ways of making informed choices and assess risks, to demonstrate empathy and assertiveness. During Year 9 students are also introduced to relationships and sex education. They learn about consent, sexting, sexuality and child sexual exploitation.
Key Stage 4 (Years 10, 11)
Year 10
Students learn about the factors affecting the society in which they live. They are introduced to Enterprise Education and undertake an initiative to help students develop the attitude, knowledge and skills of the entrepreneur, culminating in the Enterprise Fair. There is significant time dedicated to exploring and encouraging good mental health, types of crime, youth offending and forced marriage.
Year 11
Time is taken to prepare students for their exams and life beyond. They will cover topics including Revision skills, National Identity, Social Harmony, Building Healthy Relationships, Stress management, Social Networking sites, Independent living, Accepting Differences and Teenage Pregnancy. Sessions are delivered through a mixture of lesson-based activities and talks from outside speakers. Parents will always be informed of visiting speakers prior to the sessions taking place.
Sixth Form (Years 12, 13)
Year 12
Citizenship lessons are fortnightly and begin with ice-breaker activities organised by the Year 13 senior students. The focus of the first term is enabling the students to successfully transition to A Level study, and we follow the 'VESPA' model which looks at a students vision, effort levels, systems, practices and attitude to allow them to become successful A Level students.
The second term is all about looking forward- we introduce UCAS, work experience, and think about what can be done to boost a student's application or CV. During this term we also have 'looking forward' day and careers talks during citizenship sessions, both of which are run by the careers department. We use this term to look at the students' place in the wider world, studying the government's 'prevent' strategy, voting and elections and personal finances, including avoiding debt.
In the final term of Year 12 students begin to register for UCAS and develop their personal statements. We also take time to think about the influence that the media has on our lives. Throughout the year, Year 12 are lucky enough to have talks from the Daniel Spargo-Mabbs foundation (drug awareness), Investment 2020 and a trip to see 'Safe Drive Stay Alive' at Dorking Halls.
Year 13
Citizenship lessons also occur every two weeks and the year begins with a focus on UCAS, including reviewing personal statements and practising interview technique. For students who are unsure about university there is also a session about the possibilities of gap years.
In the second term we begin to prepare students for their exams, with sessions on revision tips and coping with exam stress. We also start to prepare students for living away from home by teaching the students about food hygiene, healthy eating and managing a budget. In this term we also look at how we fit into a multicultural Britain and are lucky enough to have a practical first aid session run by St John's ambulance.